Today we had our typical continental breakfast provided by the motel and then started for Mesa Verde. We weren't at all prepared for what we found there. First, once inside the front gate, we drove 15 miles to get to the visitors center. There we were at an elevation of about 8,000 feet with temperatures around 50 degrees and winds gusting to about 40mph. Inside the park rangers spoke to each visitor or group of visitors individually to explain some of the possible activities with the park. A couple of the tours we figured would be too strenuous for Sue to handle. Besides, she certainly does not like to be on a ladder and that would have been a requirement. So we opted for a few of the self-guided activities. The first was a visit to a place in the park named Spruce Tree house. It was constructed by the Anasazi in a natural cave in the early 1200s and contains about 114 rooms and eight Kivas. They say it was home for about 100 people. But I wonder why 100 people would build 114 rooms. It seems to me that there would have been more people there than that. Some of the rooms were store rooms, but still ...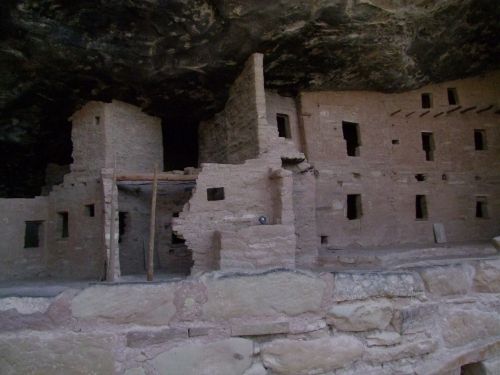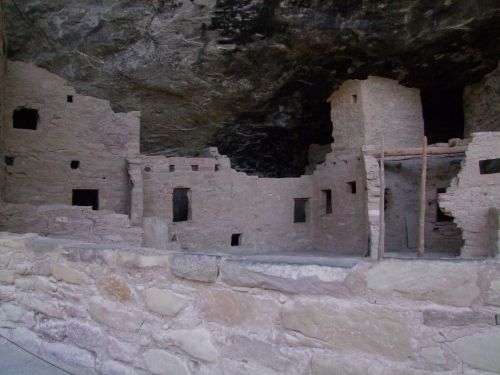 There was also a very good museum there with displays regarding their pottery, their hunting, their farming, their clothing, and certainly their architecture.
Other ruins we visited there were remains of earlier buildings built in the 900s AD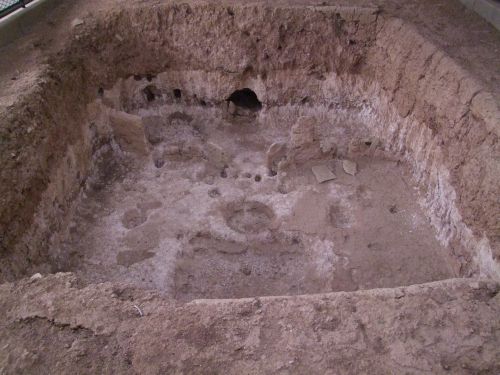 This is called a pit house. It was usually a rectangular pit with poles at the corners to hold up a roof made of small branches and covered with adobe. The round depression in the floor was the fire pit. The entrance was through a hole in the roof, usually pretty much directly over the fire pit.