We slept late today. We stayed in our motel room until almost noon. We just needed some extra time to recover from Sunday. After getting some coffee, we went to another dinosaur museum. It was a nice little community museum with some interesting displays. Sue stills like these triceratops best (you can tell from her smile)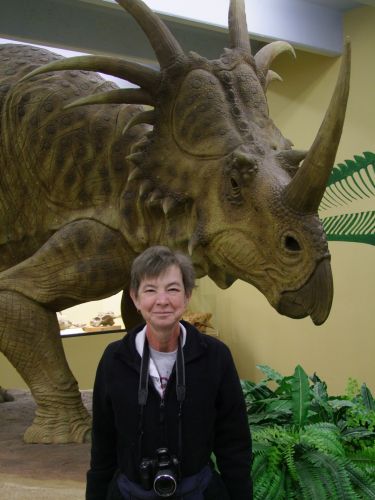 There were also three Permian trees here. The Permian period is earlier than the dinosaur time and there are only about six trees from that period known in the entire world and three of them were here. They look like wood, but feel like stone.
From there, we started for Cortez, CO, just outside of Mesa Verde National Park. Along the way we spotted the sign for Hovenweep National Monument. So we headed out across the hillsides to see this place. These are ruins of the ancient people of this area. Very old. Most of the buildings seen here were constructed in the early 1200s.
Notice how this tower stands on top of a big old boulder. That rectangular opening is the door. Now, imagine how you would get into it. Why would they build a tower there on that boulder like that?? How would they get into it?? Why would they spend so much time creating such a tower, fitting the stones together so well that they hold up for 800 years?? And then what ever happened to the people that built it??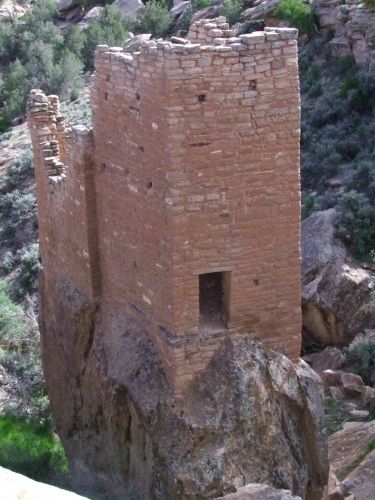 Here's another building that shows what must be have been a series of peep holes. It seems that often holes like these would line up with the movement of the sun to track the equinoxes and the soltices.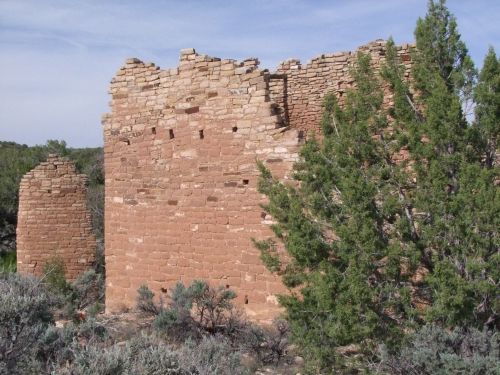 What an interesting and mysterious place. We were glad we took the time to stop.