Sunday we checked out of our room at Green River, UT, and made our way to the Arches National Park. I told Sue I thought we might spend four hours there. She thought she would get bored to death way before that.
One of the first views we had upon leaving the visitors center was like this.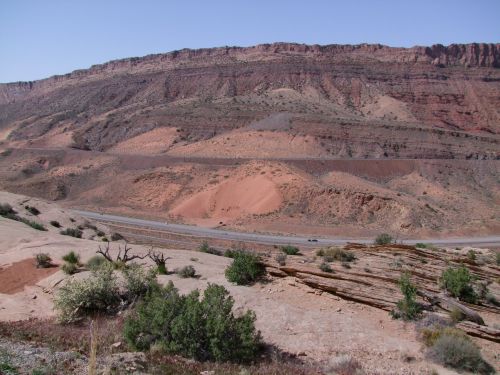 That is a four lane highway visible across the photo with a semi moving through there. This is called the Moab Fault. I'm not sure how to gauge the height of that wall across there. It has to be at least 300 or 400 feet high. And it stretches for miles along the highway. It isn't always that great a height from the highway to the top of the fault.
The first viewpoint on the drive through the park was named Park Avenue. There we were greeted by sights like this.
Again the sizes of these views just cannot be understood from these tiny photos. But if you look very, very closely in this photo you will detect a group of at least five people.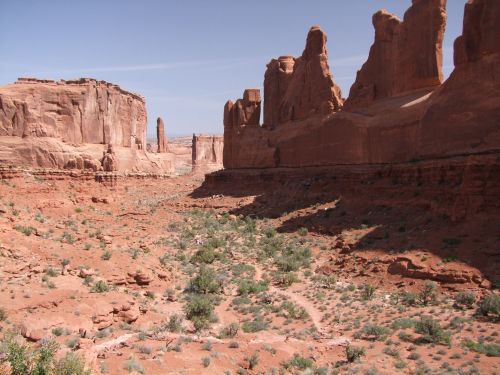 A few viewpoints later we found this balancing rock... The wind was blowing like crazy while we were there, like it was trying to move it. It did succeed in blowing off people's hats. I caught mine just as it lifted off. But that rock didn't budge even a little bit.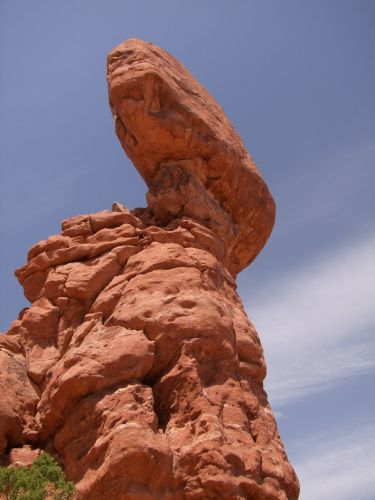 Sue thought this park was rather like Garden of the Gods in Colorado Springs, but only many, many times larger. Of course, there were also quite a few stone arches, such as Landscape Arch seen in this photo.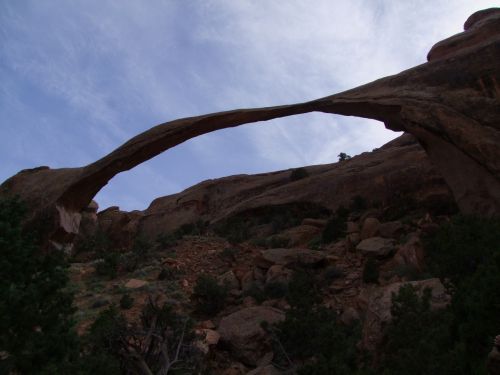 Turns out Sue didn't get as bored as she expected. It was about eight hours before we left the park and drove to a small town called Blanding, UT, for the night.