I'm getting behind in my entries here. For some reason I can't always get my laptop to access the internet, even when it claims it has an internet connection .... ???

Saturday we went to a state park in Utah named Goblin Valley. I first heard of it when in Utah briefly back in 2003. It was the site where some of the movie Galaxy Quest was filmed. It you remember the portion of the movie when they were on another planet where there were giant rock monters. That was filmed there. Those rock formations, referred to as 'goblins' because of their spooky shapes, are just amazing. (Similar formations are found in some other areas in much smaller quatities and are sometimes called 'hoo doos'.)
This one looks like a big mushroom.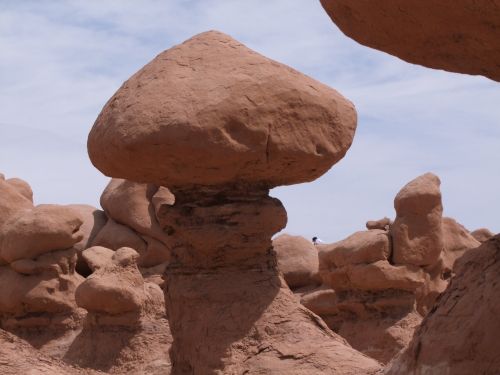 I think that in the pictures they kind of look like big blobs of play-dough.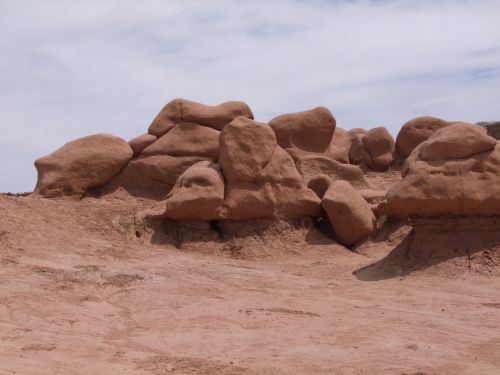 Doesn't this one look like some kind of animal or duck or something???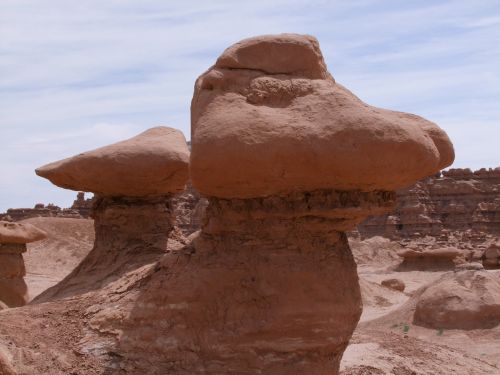 This picture show their real size compared to Sue.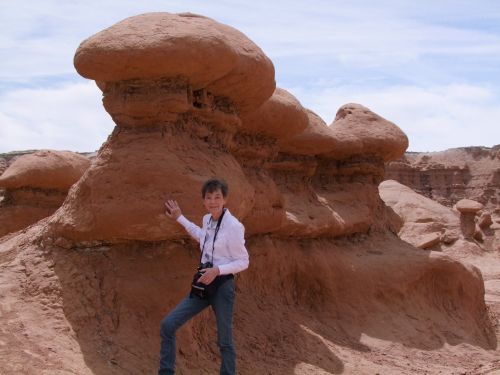 Sue thought we would spend 20 minutes and be done and ready to leave, but walking around among the goblins was more fun than that and we ended up roaming around for at least two hours.
It was still fairly early in the day, so we drove over to Moab, UT, after that and roamed through several of the souvenir shops. By the time we finished that we were starting to get hungry, but decided to take Utah Scenic Byway 128 from Moab through the Colorado Riverway Recreation Area. We were both glad we did even if it meant we wouldn't eat for about three hours. The drive was indeed very scenic, with lots and lots of red rock.
Here is one vista that greeted us before we had gone very far along the way.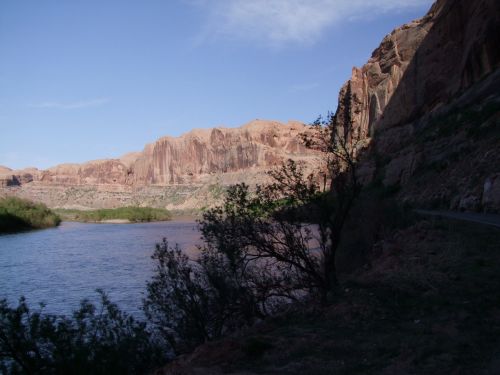 This picture shows the setting of a lodge along the Colorado called Red Cliff Lodge. Look it up at www.RedCliffLodge.com.
By the time we got back to the Tamarisk for dinner it was after 8pm. Fortunately they are open until 10pm and we had a great dinner buffet and fell asleep almost as soon as we got back to our motel room.